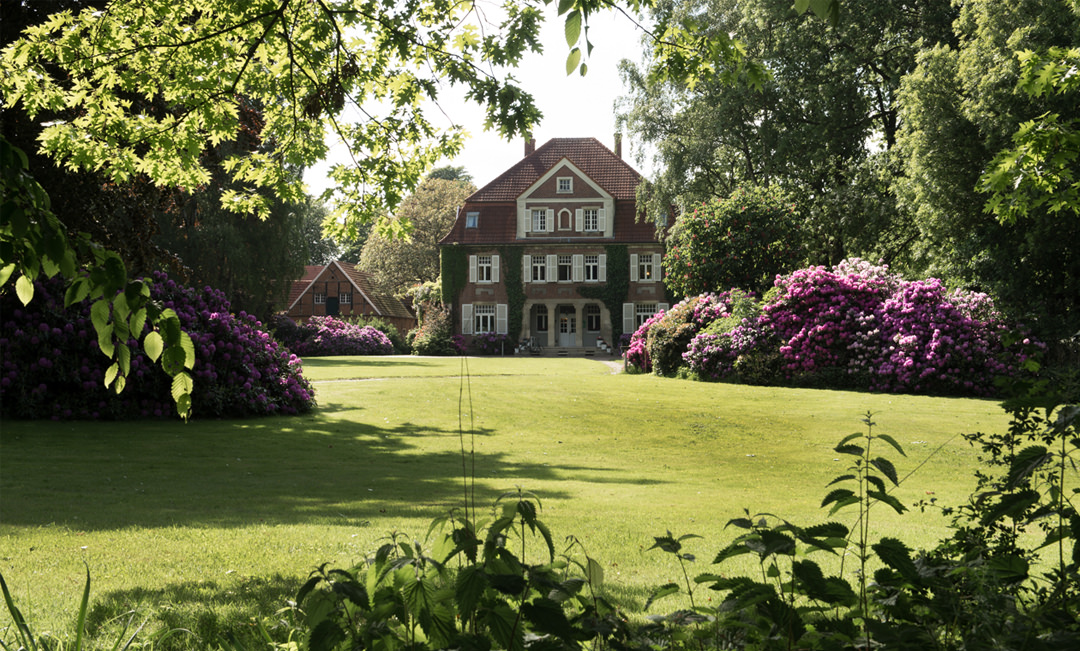 Holidays at the Ponyhof
Surrounded by great ancient trees, big open lawns and rhododendron bushes the breathtaking property is situated amidst the graceful parkland that is Münsterland. It is an idyllic island far away from the outside world- a paradise for children from 7-14 years old- where they can experience an unforgettable riding holiday in the great outdoors.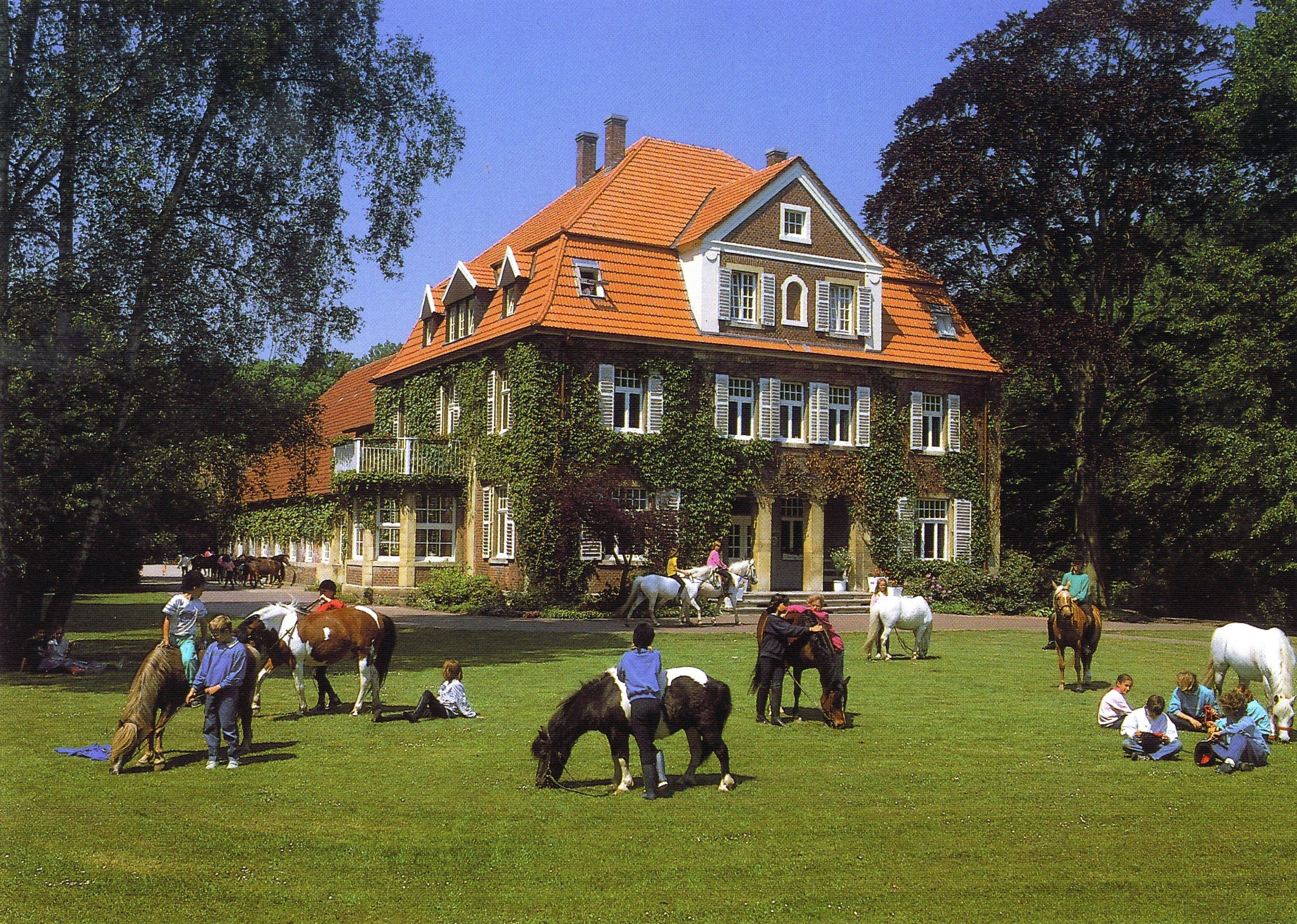 The Ponyhof
The special view of a pony mane from above, the first riding lesson and riding outside the arena, lots of time outside- pure happiness for children. Many parents of our little guests associate the Ponyhof with some of their own cherished childhood memories.
Each child looks after their pony according to a daily timetable. Playing and fun after their riding lesson means no chance for boredom. Not only is it an unforgettable holiday but naturally a qualified riding education for both beginners and more advanced riders.
The Schulze Schleithoff's and everyone working here ensure our little guests feel welcome and are treated like part of the family.
Holiday Apartments
Pure country living that promises relaxation! Our holiday apartments are lovingly decorated and tastefully furnished to ensure the perfect atmosphere.
We are very close to, for example, the Castle and Sandstone Castle route, with lots of lovely old country Guest houses to visit. Münster with its historical city centre is only 15 kms away, offerring a wide range of cultural options.
Your children or grandchildren are welcome to join our pony camps as a day guest.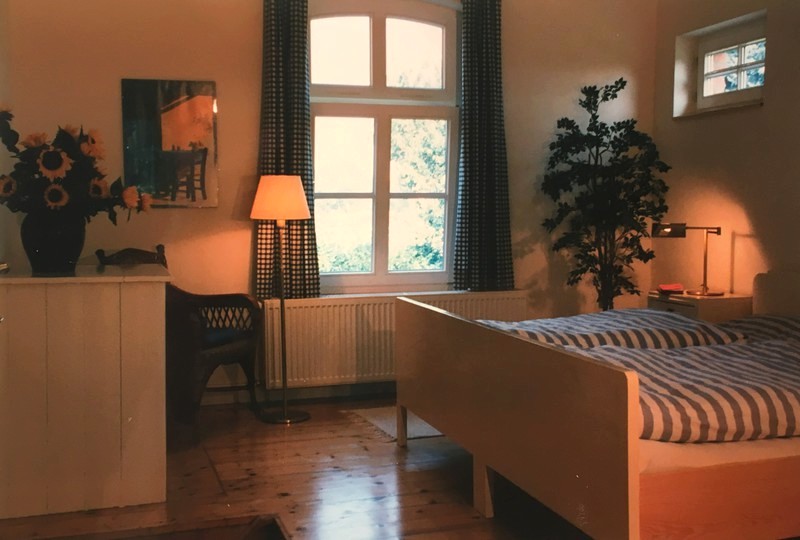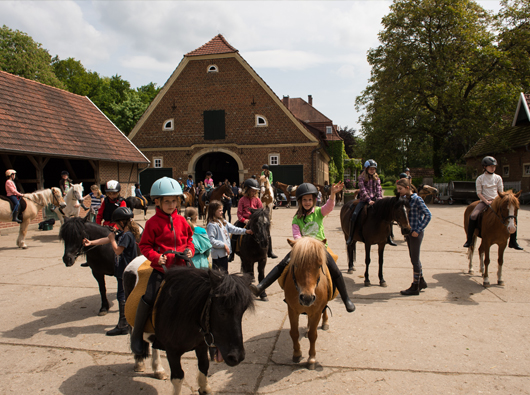 Schools and Kindergartens
The children experience a diversified schoolday with the varied possibilities at the Ponyhof.
It can be organised during school semesters that children come and stay at least one night and experience life here as part of their school or kindergarten education.
Please write us an email for further information!
Riding lessons
Ponyhof Schulze Schleithoff offers regular qualified riding lessons with licensed Trainers outside of the holidays.
As well as riding the children also learn about looking after the ponies. Riding out and horseback games ensure fun and variety.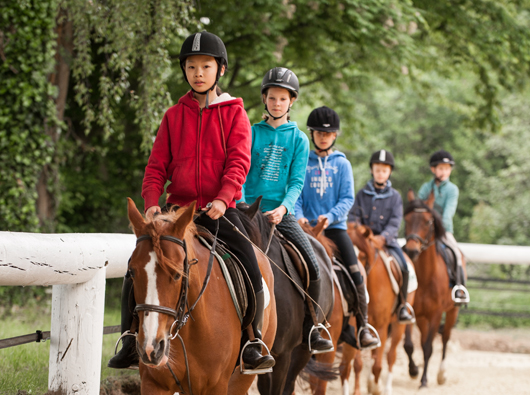 further information
The arrival time is usually between 1pm and 5 pm on the first day of the holiday. Pick up time is between 9 am and 11 am of the last day of the holiday.
Four well balanced meals are provided daily during the entire stay. There is always a responsible adult in attendance overnight.
Please contact us if you would like to bring your own pony or horse.
Facilities
70 school ponies/ school horses
2 Indoor Riding Arenas
3 Outdoor Riding Arenas
Extensive riding paths on our own property
Boarding stables
Football area
Basketball ring
Ping pong table
Lake with row boat
Playground area